Success Story: Melissa C.
Melissa C. is the slender, active goddess we all aspire to be. At 51, she bikes, walks or practices yoga daily. With the help of Diata, she lost the extra weight and is enjoying her life to the absolute fullest.
***
Patient Bio:
Female, 51
Start weight: 164 lbs
Goal Weight: 128 lbs
Total weight lost: 36 lbs
*
What has the Diata Health program meant to you?
*
The program is not about looking better, but being healthy, feeling better, and knowing that my overall health has improved dramatically. I believe this program gave me my life back. Actually, it gave me the life I truly believed I could have.  
*
Why did you choose Diata?
*
I was at a point in my life where I just knew I couldn't go on feeling terrible. My weight was up and down for years because everything I tried was a diet, not a way of life. And before this program, I never tried to understand why I had, what I consider now to be, an unhealthy relationship with food. I was an emotional eater, using food to provide comfort for the problems in my life. The minute I met Dr. Constable I felt immediately at ease. She helped me understand the root of my unhealthy relationship with food, with no judgment - only compassion, and encouragement. 
*
Tell us a bit more about your weight loss journey.
*
I was 164 lbs when I started the program. I am now 128 lbs and can truly say I have never felt better. I exercise regularly, not because I feel forced to, but because I love how it makes me feel. I love to ride my bike, I practice yoga daily, and walk.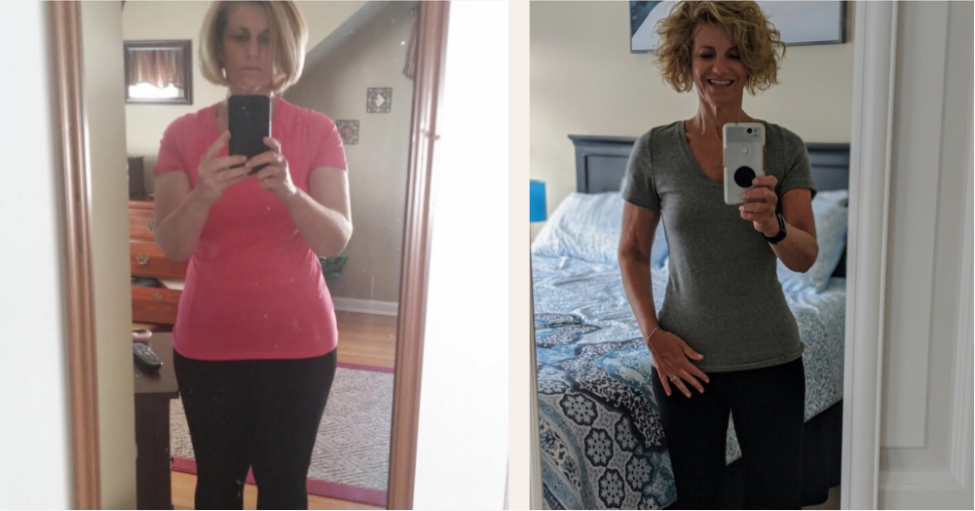 How do you feel differently now that you've lost weight? 
*
It's given me a peace and confidence that's not just about how I look but knowing that I truly changed, and most likely extended, my life. I did it. It wasn't easy at first, but I did it. And I have maintained, because again, this is not a diet, or about being "skinny," it's about living a healthy lifestyle. 
*
We have to ask. What are your insider tips and tricks for lasting success?
*
Tip #1: Through the program with Diata, I learned how to eat macronutrient-balance meals and the importance of eating protein at each meal. Even now at goal, I make sure to follow these principles. For example, every morning, I eat scrambled egg whites - before I eat anything else - no matter what else I have for breakfast. For me, this is an easy way to get enough protein in first thing in the morning and sets my day up for success.
Tip #2: About once a week or so I walk around the house with two twenty pounds weights for about 5 minutes. I lost almost 40 lbs so it's a reminder of how horrible it feels to carry that extra weight around.
Tip #3: As for a recipe - I LOVE breakfast so it's Skinny French Toast: two slices of Pepperidge Farm Light Style 7-Grain Bread dipped in egg whites and cinnamon and topped with either strawberries or sugar-free syrup. Delicious.
Our biggest congrats to Melissa! We are so proud of your hard work and success.
Here at Diata, our mission is help our patients get to their healthy, and happy weight for good. Should you be interested in learning more about our program here at Diata Health, reach out to learn more.